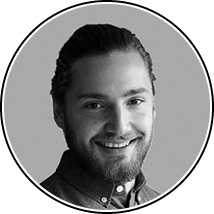 I am a multidisciplinary Norwegian designer. Currently working freelance out of Oslo, Norway.
My core strength is in identity and communication. I am motivated by making creative solutions that develops, differentiates and positions brands and businesses, within both digital and analog landscapes, and in the intersection between these. My drive is always to create value, through an insight driven and user-centric approach, and to always strive to find the right problem to solve.


Through my independent one-man company 'Westbye Design', I've worked with a variety of clients, ranging from smaller businesses and start-ups, to larger companies such as Coca-Cola, Red Bull and Bama. I've also worked from within various agencies such as Brandlab and SixSides. 


I hold a Bachelor's degree in Visual Communication Design from Deakin University, and currently working towards a Master's in Digital Media Management through Hyper Island's part-time programs.


Feel free to contact me with questions or enquiries! 


Best regards,

Steffen Westbye